Countries across the globe are aiming to transition to net-zero emissions in the near future through increased usage of renewable energy sources along with introducing greener modes of transport such as the keen focus placed on encouraging the use of EVs across the country but a further focus should be placed on increasing the energy efficiency of our buildings and the decarbonisation of the built environment.
The scale at which we have been previously decarbonising our building in the past must be increased to over three times the rate in order to achieve this ambition. Companies all around the world have been enhancing their efforts but this process must be tackled on a combined global front.
The built environment is something that we have created as a society over the past number of years for living, socialising, working, and now is the time we must focus on how we can create a more sustainable build as well as retrofitting those already out there. This will help to further support more equitable, and healthier communities built for the long term.
The EU has recently published its proposal for the revised Energy Performance of Buildings Directive which has introduced plans as to how the building sector can begin the process of decarbonisation through more rigorous building standards, increased amount of quality checks, and a lifecycle emissions calculation requirement.
Here we discuss further developments in the decarbonisation of the built environment:
What is the Decarbonisation Problem?
Over the past number of years, we have started to see an improvement in the building process which has allowed us a kickstart in the decarbonisation process however as a society we are far from done. Our building generally has two main forms of emissions:
Embodied Carbon Emissions – which includes the emissions resulting from processes such as mining, harvesting, processing, manufacturing, transporting, and installation of building materials.
Operating Carbon Emissions – which result from the heating, electrification, and cooling of our buildings.
Our embodied emissions look set to have a large role to play in our decarbonisation endeavours as these can have a largely negative impact on climate change if not addressed in time. Over the next 30 years, it is estimated that our buildings' embodied emissions will account for almost 50% of total emissions from all new builds. Even though our operating emissions can be reduced over time through energy-efficient measures such as installing an EMS, embodied emissions are fixed as soon as a new building is constructed.
While we can begin and continue introducing improved decarbonisation processes into our new builds, it is estimated that almost 2/3 of buildings that are already here now will still be present come 2050. This means our past inefficiencies and poor technological processes will still be adding to pollution levels in 30 years unless we fully upgrade or rebuild. At present we are only renovating less than 1% of our current builds with a figure almost triple that required to meet our Paris Agreement commitments.
How Can We Solve the Decarbonisation Problem?
Energy Efficiency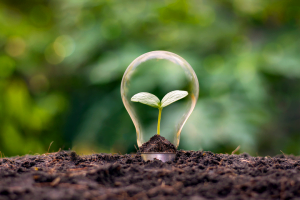 The retrofitting process can be one of the quickest and most cost-effective measures of the decarbonisation process for our buildings and improving our current energy efficiency measures.
The team at Lawler Sustainabilityhave has over 40 years of experience giving businesses a commercial advantage when it comes to maximising energy reduction and energy revenue streams. Our team can help to determine your building's energy efficiency levels and detect inefficiencies allowing you to create a suitable pathway for your decarbonisation process.
Carbon Negative
To achieve our Net-Zero ambitions for 2050 all-new buildings being constructed must be as close to net-zero emissions as possible or maybe even better than that at carbon negative. This means that the building goes past zero emissions and also produces more energy than it actually needs which feeds into the electrical grid. A good example of how buildings can achieve this is through the use of solar panels.
Energy-positive buildings must be an imperative consideration for future designers and builders as such buildings allow for local carbon intensity to be addressed along with the effect from previously poorly designed and carbon negative buildings. The team at Lawler Sustainability recognises that buildings must be designed and operated in an energy positive manner, creating an environment that is comfortable and functional, with a minimum effect on the environment.
Financing
Banks and financial institutions are becoming increasingly aware of the importance of sustainable investments and the impact that they can have on the future of climate change and decarbonisation. More and more legislation is being continuously introduced regulating how future buildings can be constructed and also financed, which is having a huge effect on sustainable building design and possible future construction methods.
Whether it is construction loans or mortgage financing, the bank's exposure to climate-related risk is ever increasing and they are increasingly moving their interest towards energy-efficient projects and models, with funds being directly provided for "Green Initiatives", with sustainable financing growing increasingly in the worldwide market.
---
The buildings of the future are set to be considerably different from present and past. Key participants in this change will be the Building Services and Sustainability Engineer. We have in recent years seen the pivotal role engineers play in designing buildings to optimise passively its environmental performance and decarbonisation efforts.
Learn about some of the services we can provide to help improve your energy management and more here. Follow us on LinkedIn to keep up to date with the latest news and trends in the sustainability sector.