The recent COP26 summit held in Edinburgh has outlined the importance of climate change and has increased the pressure on countries and their industries such as construction to work together and deliver on sustainability strategies whether that be on a national, corporate, or personal scale.
Construction Sustainability
Construction sustainability has a major role to play in the global environment as we strive to meet our net-zero targets in the coming years. There is a growing worldwide awareness and realisation that the implementation of sustainability strategies is under a time constraint and industries across the world are curating these frameworks for their futures as they attempt to reach carbon neutrality.
The Central Bank of Ireland has placed the issues of sustainability at the top of the agenda when outlining its 5-year plan as governor of the bank, Gabriel Makhlouf outlined the importance for the country of switching their attention away from "fixing problems of the past" to meeting the "challenges of the future".
Green building policies and regulations in Ireland and across Europe are changing fast and it is of utmost importance for industry leaders to create this change together in the attempt to attain a more sustainable future. The built environment impacts many sectors of industry and helps to play a vital role in solving similar problems and the creation of suitable sustainability strategies to work in co-existence across each industry is imperative.
As industries such as the construction sector continue to linger over the implementation or even improvement of their sustainability strategies they are risking the possibility of increasing fines & penalties, negative public perceptions, competitive positioning, and increasing costs such as rising insurance premiums.
Finding the right insurance and creating a positive working relationship can be difficult in the companies within the construction industry and this relationship can have a major influence on potential future projects. The business of insurance is the definition of risk management and the increasing risks being posed by climate-affected factors will ultimately impact the decision and size of the premium a construction company will be required to pay to gain insurance.
With this in mind, most climate-related risks can be split into 3 main categories for industries that are aiming to deliver on essential sustainability strategies:
1. Physical Risk
The continually worsening climate crisis has led to a worldwide increase in the number of extreme weather-related accidents which are rising in both frequency and severity has led to climate change becoming a leading emerging risk.
Insurance companies are first-hand witnesses to these risks and have seen the astronomical costs incurred and are in turn hiking the price of insurance premiums that firms across the globe are liable to pay to counter such events. This is causing insurers to be more cautious as to which parties are able to be insured with particular attention being paid to exposure, geographic location, and implementing strategies to mitigate risk.
According to a recent survey conducted by The Central Bank of Ireland, 44% of companies believe they are mostly exposed to physical risks as the awareness around issues created by climate change is continuing to grow.
The construction industry is however essential in the attempt to prepare for these risks by ensuring sufficient climate protection is already in place for new buildings in the early stages of construction as we are yet to discover how insurance premiums will be affected by the periodical resilience of such buildings.
2. Transition Risk
These are the business-related risks that follow modern society's shift towards a more low-carbon and environmentally friendly environment that will lead to a more sustainable future. The pressure is on industries such as construction to create and successfully implement their sustainability strategies as stakeholders from investors and workers to the general public are becoming more aware of the risks posed by modern industry.
Evidence has shown that ESG-focused companies tend to be in a far better economic situation and offer a better-adjusted return for stakeholders compared to those who are less environmentally cautious.
Ireland has set the target to achieve a 70% switch to more renewable energy sources while reducing carbon emissions by a further 51% in the same time period, which means businesses that do not conform with such sustainability strategies are likely to pay an increased premium.
3. Liability Risk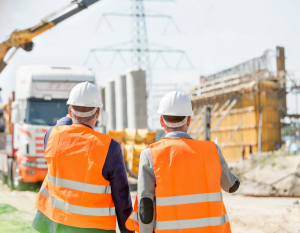 In the recent past, there has been a large volume of legislation passed in relation to climate policy and how industries must manage climate-related risks. The increasing amount of new rules and regulations that are being passed are increasing potential exposure for insurance companies who are backing companies operating in the construction industry which is leading to increasing policy premiums for these organisations.
This is also negatively affecting the potential coverage a construction firm is likely to receive as sustainability strategies continue to grow in importance. While only 4% of firms admitted liability risk was a key concern for their business, construction companies should make the effort required to decrease any potential risk that could arise.
Previously construction companies have been caught out in their use of fossil fuels and non-eco-friendly materials as claimants have started to become more creative in their attempt to protect the environment. Reducing these risks and potential exposure should be an essential target for these firms as 54% of Irish companies admitted climate risk mitigation is only partially integrated into their corporate framework.
It is important for firms within the construction industry to increase awareness on creating sustainability strategies and how it affects the day-to-day running of the business as 67% of companies admit they did not know climate-related factors affect the price of their insurance premium.
Reducing Climate Risk
It is important for companies within the construction sector to include climate risk management strategies within each of their projects and overall corporate framework as we attempt to fight for a greener environment on a global scale. The Irish government has also set out its green building regulations and created a future sustainability roadmap that we should all abide by to achieve a more environmentally friendly Ireland for future generations.
Luckily, for today's modern business there are steps that can be taken to create functioning sustainability strategies and mitigate against potential climate risk At Lawler Sustainability we recognise that buildings need to be designed, constructed, and operated in an energy-efficient manner that will achieve an internal environment that is comfortable, functional and enjoyable to occupy while having minimal effect on the environment.