If you are thinking of buying an Electric Vehicle (EV) and would like a little more information. This is EV blogpost series is for you.
EV Blogpost Series: The Driver's Point of View
As a Car Owner
Electric Vehicles (EVs) are receiving lots of attention lately. The Irish Government set an extravagant target for electric vehicles by 2020 – 20% of all cars on Irish roads will be electric by that time. This is expected to fall very short. However, the 2 million milestone for EVs sold worldwide was in 2016.
Dutch Bank ING, however, has predicted that electric cars will account for all new European car sales by 2035, with Ireland aiming for all new car sales to be EVs by 2030. Therefore, it might be time to think about making a change to the criteria we consider when buying a new car.
Travel Distance and Range
Battery Powered Vehicles (BPEV) are steadily increasing in range capability with manufacturers developing affordable cars with a 400 km+ range available in Ireland before 2019, which will eliminate 'range anxiety'.
There is currently a huge cost saving to be made for the average driver of an EV.
For Example:
70% of journeys made in Ireland are by car, with 51.2% of journeys for work (29.3%) and shopping (21.9%) the average car journey in Ireland is under 15 km (CSO). Therefore, if we assume a generous 30-minute commute, consisting of somewhere between 30 km and 50 km every working day (250 days per year) or 7500-12,500 km per year. And if the vehicle owner drives at an average speed for the duration of this journey, this would result in a €1000 – €1300 per annum saving in fuel costs over a diesel equivalent. The added bonus of the electric vehicle is in the low servicing costs, tax (VRT) savings, and the benefits of being an early adopter (Grants etc.) Not to mention the 40%+ reduction in carbon emissions.
Grants
The Sustainable Energy Authority of Ireland (SEAI) is offering grants of up to €5000 for a BEV or a Plug-in Hybrid Electric Vehicle (PHEV) purchased and registered in Ireland. In addition, these vehicles also qualify for Vehicle Registration Tax (VRT) Relief of up to €5000 for BEV and up to €2500 for a PHEV. Therefore, there is a maximum subsidy of €10,000 for BEV drivers and €7,500 for PHEV drivers.
Chargers
The IEA (International Energy Agency) calculates 2.3 million charge points worldwide, with domestic chargers outnumbering commercial chargers 6 to 1. However, Ireland has one of the best electric charger infrastructures in Europe, with chargers available every 60 km along all main intercity routes. Ecars (ESB) has a network of over 1,200 public, standard, and fast charge points across the country.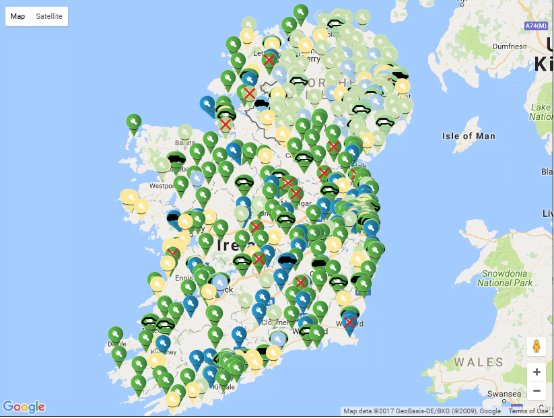 We have all seen the charging areas pop up left, right and centre recently to accommodate for the growing number of electric cars hitting the Irish roads.
Tesla is the current supplier and market leader of the world's fastest charging station. Located ideally near shopping areas, restaurants, and wi-fi hotspots, Tesla is making charging a lot easier.
Tesla has already installed 6,100 chargers at 900 stations worldwide, including one station in Ballacolla, Co. Laois, and a further two more opening in Limerick and Kildare soon.
Next Steps
Ultimately, it is up to the driver to assess their individual situation and draw conclusions as to whether adopting an EV or PHEV into their lives would be worth it. However, with the growing interest in EVs and the increase in the number of charging areas being installed around the country, running these cars is becoming very convenient and feasible, before 2020 seems to be the perfect time to buy an EV, with the government incentives, car technology, and range advancements, cost reductions and electrical infrastructure in place.
As more business owners become environmentally responsible, we expect to see the development of many more charging stations in car parks in the coming years.
Also, with the new targets being set by the government, an electric car may be the smarter long-term investment where the target is to rid the unleaded and diesel-fuelled cars from our roads in the near future.
See the 'Draft National Mitigation Plan' MARCH 2017.
The next 5-6 years will be very interesting for this industry. Our next blog post in this series will explore options for a store or business owner.