SEAI Advisory Service Panel Success
After a lengthy submission process, Lawler Sustainability is delighted to be featured on three of SEAI's advisory service panels. These panels are the SEAI framework of energy professionals to see the public bodies and SEAI members achieve their 2020 targets (See below). The overwhelming reason for this success was because Lawler Sustainability had 'one of the most economically advantageous tenders in terms of the published award criteria'.
Our position on these panels means Lawler Sustainability can now be called on as an advisory service to Public Bodies through SEAI's Public Sector Programme to help public bodies achieve their 33% energy efficiency commitment by 2020 and to support SEAI in the development and implementation of their programmes. This contract spans three years to 2020 and will range across a variety o government departments including the development of schools and healthcare facilities.
Below you can read the description of the 'Lots' in which Lawler Sustainability was successful:
1. Energy Management Specialists
Lawler Sustainability will undertake several diverse roles, including supporting Public Bodies to develop, continually improve and implement their energy management programmes. They will also facilitate the delivery of SEAI's wider suite of services to Public Bodies and provide specialist advanced expertise in specifically defined energy management fields to Public Bodies.
2. Project Evaluation Specialists
Lawler Sustainability will identify, quantify and analyse opportunities for energy-saving projects within Public Bodies, with an emphasis on projects that go beyond behavioural change and low-hanging fruit. As this is a primary service of Lawler Sustainability, we were very pleased with this result.
3. Project Delivery Experts
Lawler Sustainability will mentor Public Bodies directly on the delivery of energy projects by assisting them through formal project development processes.
The Government's progress to 2016 and 2020 targets can be found below in the chart from the 'Annual Report 2016 on Public Sector Energy Efficiency Performance'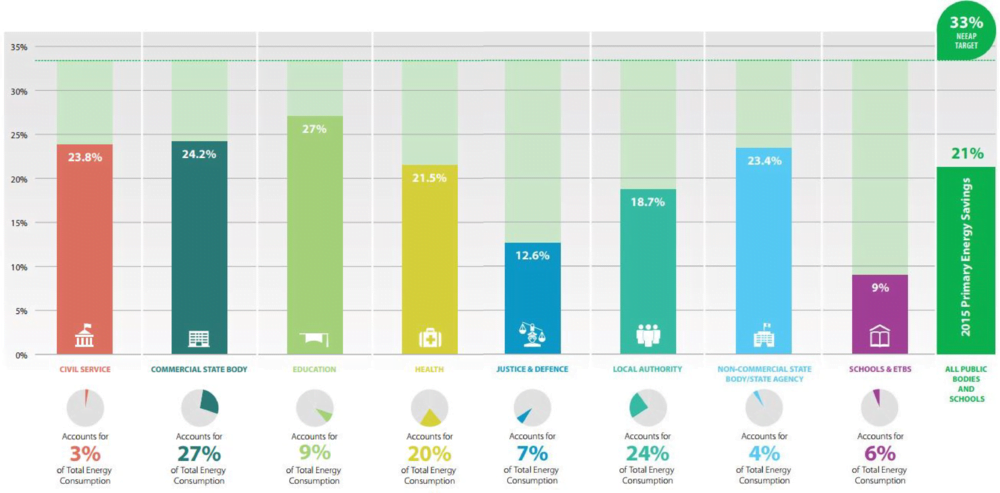 Our wealth of in-house experience, understanding, and value-driven work has returned a fantastic opportunity to Lawler Sustainability. Keeping staff up to date with training and health & safety measures is something we strive to do at both Lawler Sustainability and our sister company NLCE.
---
If you are seeking Building Services Engineers, Energy Contractors, Energy Auditors, Building Energy Certificates, or Insurance Surveys/Reports, Lawler Sustainability can help. Call our Kilkenny office on 056-7721115 to talk to one of our Energy Experts or email [email protected].
Stay up to date with the latest developments – find us on LinkedIn, Facebook, and Twitter.