The Store Owner: If you are thinking of installing an Electric Vehicle (EV) Charge Point and would like a little more information. This is the blog post for you.
EV Blogpost Series: The Store Owner's Point of View
Recently, Lawler Sustainability acted as Mechanical & Electrical advisors on the installation of the (50kV) electric charging station in Drogheda's Lidl store car park (see photo below). This will allow two cars to charge at any given time while customers do their grocery shopping. With the added benefit of making the store more environmentally friendly. Also installed were solar and wind-powered car park lighting, a heat recovery system, and LED lighting.
As discussed in part 1 of this series, Electric Vehicle sales are due for a big increase in the coming years. With major car manufacturer Tesla launching their reasonably priced (€30,000) electric car at the end of July 2017, the car (Model 3) has a range of 345km on a single charge. Therefore, store owners will need to adjust to this change in lifestyle and provide charging areas for customers while they shop.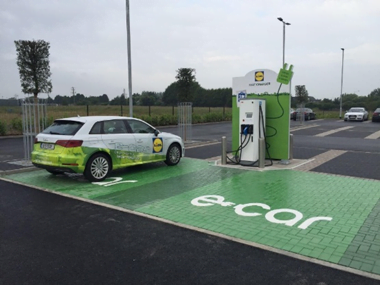 Targets
Countries have set different targets as to when they would expect fossil-fuelled cars to finally be phased out. Norway, Sweden, Denmark, and Finland are predicting 2025 as their phase-out target date. India and Europe, including Ireland, have set a target date of 2030, while Britain lags behind targeting 2040.
Tipping Point
The IEA 'Global EV outlook 2017' estimated world-wide EV car sales would surpass the 2 million mark in 2016 (See below).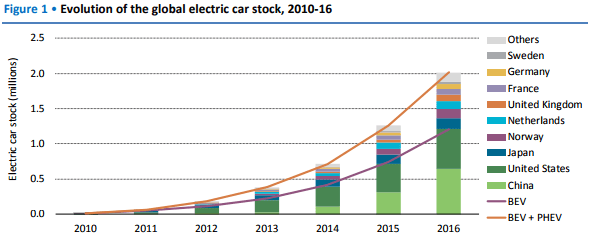 Have we reached the tipping point? Not quite yet.
The market share required for 'Tipping Point' is roughly 25%, this is when 'The Chasm' is crossed and the majority accept the new technology.
EV market share is currently closer to 1% of global vehicles. However, in countries such as Norway, a 23% market share currently exists.
As for Ireland, being the size it is (Dublin to Cork 270 km), with the Irish income levels, high tax on fossil-fuelled cars, and with the extensive electrical charging infrastructure already in place, do not be surprised if electric vehicles start sneaking up on you (they are very quiet – Stop, Look and … Look again before crossing the road).
Ireland will likely see a huge increase in EVs in the coming years. The range anxiety being most people's concerns is now no longer an issue.
Upgrade Works
In order to cater for the rising popularity of Electric Vehicles, store owners will need to make upgrades to their site, including allocated car charging points to allow customers to charge while they shop. Customers who cannot charge or where charging is slow may be inclined to shop elsewhere therefore incorporating a whole new competitive aspect into the market for retail stores. Those earlier to act on the installation of Electric Vehicles Car Parks may see the added benefit including increase in customers, change in attitudes towards a brand, earlier end to payback period and increased corporate social responsibility credit.
Although there will be a big initial investment for the installation of this car park upgrade, the payback period can be very reasonable. However, if you find your store awkwardly geographically located where the only parking for customers is that of which you provide, in the coming two decades, the whole car park may have to be made Electric Vehicle friendly. However, if the car parking used by shoppers at your store is Government funded or Privately owned by others, you may avoid the bill.
Planning
Dún Laoghaire – Rathdown County Council 'County Development Plan 2016-2022 – Principles of Development' states:
8.2.4.12 Electrically Operated Vehicles To encourage the use of Electric Vehicles, in line with Council and National Policy, developments shall provide Electric Vehicle Charging spaces as follows:
Residential developments (with private car spaces including visitor car parking spaces) – A minimum of one car parking space per ten residential units should be equipped with one fully functional Electric Vehicle Charging Point.
Non-residential developments (with private car parking spaces including visitor car parking spaces e.g office developments) – A minimum of one car parking space per ten car parking spaces should be equipped with one fully functional Electric Vehicle Charging Point.
Developments with publicly accessible spaces (e.g. supermarket car park, cinema etc.) – A minimum of one car parking space per ten car parking spaces should be equipped with one fully functional Electric Vehicle Charging Point
Current Recommendation
Lawler Sustainability's current recommendation is to allow for the infrastructure (Ducting, allocating an area etc) in new car parks for the potential increase in uptake of EVs.
This area will be changing dramatically in the coming years. Planning Authorities are aware that the uptake is not as the government predicted (10% market share by 2020) although we may not be far off that figure with the latest EVs range capability.
We cannot predict the future, Lawler Sustainability can, however, assess your individual electrical infrastructure requirements and give recommendations and a strategy for accommodating EV chargers.
Additional Considerations:
National Clean Air Strategy:
According to the Department of Communications, Climate Action, and Environment:
In Ireland, for 2013, The European Environment Agency estimates that in the region 1,600 premature deaths were due to fine particulate matter and other air pollutants. In addition, estimates indicate that air pollution has health-related costs in Ireland of over € 2 billion per year.
Will this clean air strategy due for release shortly (2017) change the mindset of the government or the public into a more favourable environment for EVs?
National Energy Import Costs:
Ireland spends €5.7 Billion on energy imports or 85% (2014) of Ireland's total energy. 97% of these imports were fossil fuels. €4.4 Billion (77%) of this energy bill is spent on petrol and diesel (Transport). Ireland's national electric grid will see a 40% share of renewables (mostly wind) in 2020. Therefore, Lawler Sustainability can see an increase in the incentive or persuasion for EVs increasing in the near future.
Conclusion:
With 2.3 million car chargers worldwide, and over 2 million EVs (2016), we expect demand for commercial car chargers to increase dramatically. Depending on the expected frequency of use, commercial premises could opt for an 11, 22, 43, 50kW (pictured) car charger, with a cost range of €9K-50K (Supply only). For the lowest cost commercial charger (single vehicle) 11kW charger, Lawler Sustainability estimate a payback of 4 years with only 100 users per month can be expected with a very competitive EV charge rate.
Lawler Sustainability will carry out an analysis of your store and determine the feasibility of a car charging port. We will determine the usage and size needed depending on the store's location, footfall, tariff rates and electrical infrastructure. Call Lawler Sustainability for further information on having the right commercial car port installed on your premises today: (0)56 772 1115.